FREQUENTLY ASKED QUESTIONS
If you're considering your own hammock at home, you've probably got a few questions. Here are the answers to some of the more common ones, but feel free to contact us if you want to know more.
HOW DO I INSTALL MY HAMMOCK?

First, we recommend getting a professional to take a look at your ceiling to see if it can hold the weight. Safety first!
To install your hammock, one option is to find a stable beam and use the adjustable daisy chain that comes with your hammock. The photo below is Lou's home set-up, with the hammock hanging from an additional support beam installed across a gap in the room. You can also buy or make a portable rig, which is ideal for taking your practice outside or on the move
HOW MUCH SPACE DO I NEED?
Ideally, your ceiling should be at least 2.6 meters/6.5ft high to accommodate AntiGravity® moves. For floor space, AntiGravity® recommends at least a 3 meter/9.8ft circumference (1.5 metres/4.9ft either side of the centre point between the two brackets). However, we've found that a 4 metre/13.2ft circumference is ideal.
HOW STRONG IS MY HAMMOCK? 
Every piece of the Harrison Hammock is certified to sustain over 1000 lbs (453 kgs) - as much as a baby elephant! That means the whole rig can sustain up to 3000lbs (1359kgs) in total. So if you're wondering if the hammock can hold you and if it's safe, the answer is yes and yes! Absolutely!
WHAT'S INCLUDED? 
Included in your AntiGravity® Hammock pack is: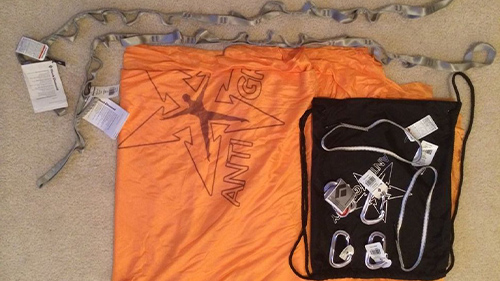 1) THE FLYING FABRIC
A one-way stretch fabric square measuring 9ft x 12ft.
2) DAISY CHAIN (ADJUSTMENT STRAP)
This piece attaches the hammock to the ceiling and allows you to adjust the its height. For restorative sessions, lower the hammock a little closer to the floor.
3) CARABINERS
Our carabiners are made from an aluminum alloy created for the rock climbing industry. They are light, extremely strong and capable of withstanding a significant amount of G-Force.
4) CHOKE LOOP
These attach the carabiners to the hammock. As you put weight on the hammock, they tighten to make a safe and strong connection.
 5) INSTRUCTIONAL SET-UP DVD

Detailed and easy-to-follow instructions on how to hang your Christopher Harrison AntiGravity® Hammock.
WHAT MAKES AN ANTIGRAVITY® HAMMOCK DIFFERENT FROM OTHER YOGA SWINGS?
AntiGravity® is the only form of aerial arts certified by the EU and USA, due in part to the rigorous testing the fabric goes through. We can honestly say our AntiGravity® hammocks are the safest in the world!
For safety reasons we wouldn't recommend purchasing a hammock from an unknown source. We'd hate for you to be disappointed with an imitation that doesn't meet your high expectations of quality and safety.
HOW DO I LOOK AFTER MY HAMMOCK? ARE THEY EASY TO MAINTAIN?
Super easy! Simply take off the metalwork and wash your hammock on a gentle cycle in the washing machine. Depending on how often you use it, it will only need to be cleaned once a month or so.
Drying is easy too. Just hang up your hammock (out of direct sunlight to preserve the colour) and it should air-dry in about eight hours.
HOW MUCH DOES IT COST?
Your AntiGravity® Hammock costs just $565NZD. This price includes a hammock in the colour of your choice, daisy chain and choke loop fittings, caribinas and an instructional DVD. It also covers shipping, handling and customs from Australia, although some locations in New Zealand might occur an additional shipping cost.
HOW TO ORDER
Great! So you've decided on your colour and you're ready to order your very own AntiGravity® Hammock. We're placing an order soon, so register your interest by contacting us and we'll let you know shipping details. 
CALL LOU ON 021761994 OR SIMPLY SEND ME AN EMAIL TO REGISTER OR FIND OUT MORE!